Special Steel Structure
Our steel structure technologies which realize super long span and super high rise structures. They are based on our world-class raw material technology fostered by our steel making business, and it enables us to execute any process from structural design to fabrication and construction work reliably.
List of Technologies:
Spatial Structure Engineering
Tension Structures
System Trusses
Building and Tower Engineering
Hybrid Structures
Spatial Structure Engineering
"Special steel structure technology" is used to construct beautiful and dynamic large spaces, such as soccer stadiums and other types of athletic event space.
We carry out everything from structural design to fabrication and construction work, utilizing the Nippon Steel & Sumitomo Metal Group's unique technology making and using steel.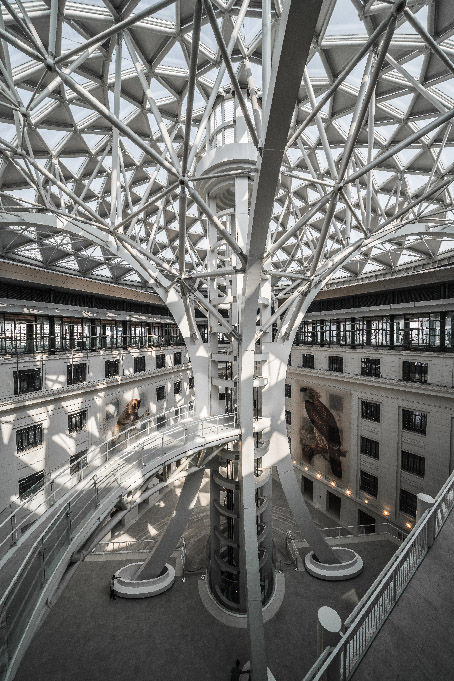 National Museum Tree of Life
Main application: Tourist attraction
Location: Manila, Philippines
Design: Dominic Quimbo Galicia Architects, PNS Advanced Steel Technology, Inc.
Construction: Trans Asia Construction Dev't Corporation
Completion: December 2015
Okada Manila Steel Dome
Main application: man-made beach with bar
Location: Paranaque, Philippines
Architectural Design: Miurashin Architect + Associates
Structural Design: Passage Projects Ltd
Construction: Trans Asia Construction Dev't Corporation
Completion: March 2016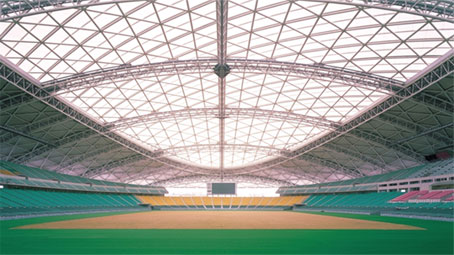 Oita stadium "Big Eye"
Main application: Multi-purpose stadium
Location: Oita City, Oita Prefecture
Design: Kisho Kurokawa Architect & Associates and Takenaka Corporation
Construction: Takenaka Corporation JV
Completion: 2001
Tension Structures
The tension structure realizes a lightweight, long-span roof frame, and a glazing system allows for a transparent façade.
Tension members that meet various design requirements from large to small capacity, along with unified design joints, are available.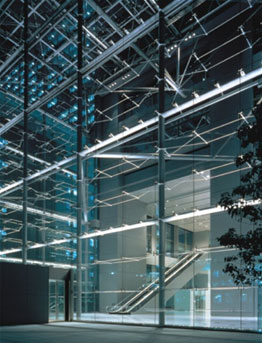 Shinsei Bank Head Office Building
Main application: Atrium
Location: Chiyoda Ward, Tokyo
Design: Nikken Sekkei Ltd.
Construction: Takenaka Corporation
Completion: 1992
System Trusses
The wide space created through use of a steel pipe space truss has brought into existence a variety of architectural expressions in sports/cultural facilities and so on.
Our system trusses, which include the simple and low-cost W truss, in addition to the NS truss, which has produced many achievements due to its excellent structural form, are designed in the pursuit of various possibilities.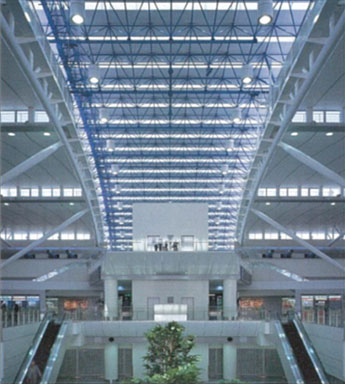 Fukuoka Airport International Passenger Terminal
Main application: Airport
Location: Hakata Ward, Fukuoka City
Design: HOK, Azusa Sekkei Co., Ltd., MHS Planners, Architects & Engineers, and Mishima Sekkei JV
Construction: Taisei Corporation JV
Completion: 1999
Building and Tower Engineering
Our excellent structural design and construction technology realize super high-rise building that are full of functional beauty.
Our spirit of innovation-which can be seen in our many achievements in Japan and overseas-is highly appraised.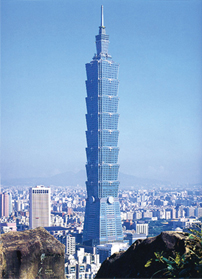 Taipei International Financial Center
Main applications: Offices, commercial facilities
Location: Taipei City
Design: C.Y. Lee & Partners Architects/Planners
Construction: Kumagai Gumi Co., Ltd. JV
Completion: 2004
Number of floors: 101 (508m)
Hybrid Structures
Large space is brought into existence using "wooden hybrid trusses", which consist of wooden members and steel plates/tension rods.
Hybrid structures are attracting attention as a new technology that can impart warmth and serenity to large-scale structures.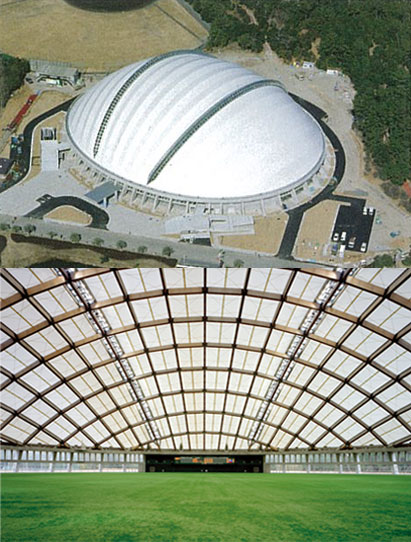 Miyazaki Prefecture All-weather Type Athletic Facilities
Main application: Multi-purpose gymnasium
Location: Miyazaki Prefecture
Design: Daiken Sekkei, Inc.
Construction: Toda Corporation
Completion: 2004