Disaster Mitigation Products
Non-Frame Method™
It is a disaster-prevention technology cultivated in Japan where landslides often happen.
Without Deforestation – cutting trees, grading works or covering with a concrete structure, this method realizes stabilization of slope, even though its structure is simple.
Features
1) Preserves the natural environment and ecological system
2) Saves resources and reduces waste
3) Construction workable even under severe condition
Compared to the conventional stabilization method of covering ground with concrete (right side of the picture), Non-frame method can stabilize and preserve natural environment at the same time (left side of the picture).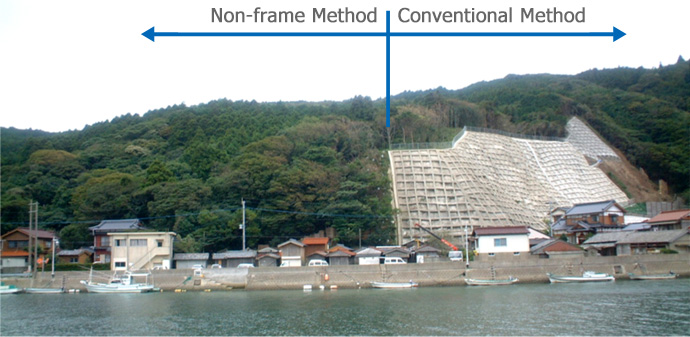 Structure of Non-Frame Method™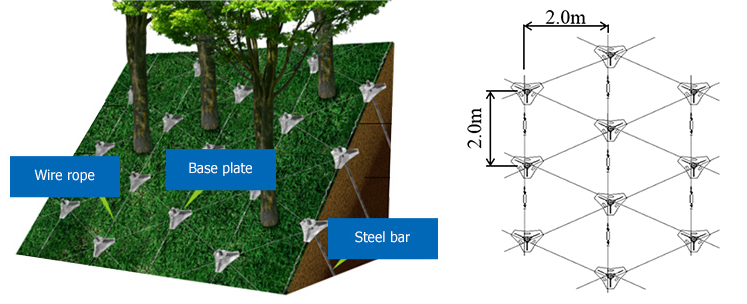 Mahiao Steamlines
Project Owner: Energy Development Corporation
Location: EDC-LGBU Kananga Tongonan Leyte
Status: Completed
Butuan 2017 JICA Project
Project Owner: DPWH - JICA
Location: Kitcharao, Agusan Del Norte
Status: Ongoing Construction
Steel Slit Dam™
Steel Slit Dam™ allow harmless sediments to flow downstream under normal conditions and secure the sediment volume until occurrence of a debris avalanche. They also contribute to maintain the riverbed level in downstream areas and prevent recession of the riverbank.
Usage
- Capture debris flow/driftwood ••• Open-type Steel Sabo dams
- Capture driftwood ••• Driftwood capturing works
Features
1) Let outwash flow downstream at normal condition & capture boulders and driftwood when debris flow occurs.
2) Contribute to prevention of riverbed degradation & bank moving back.
3) Eco-friendly by being able to maintain the continuity of stream.
Types of Steel Slit Dams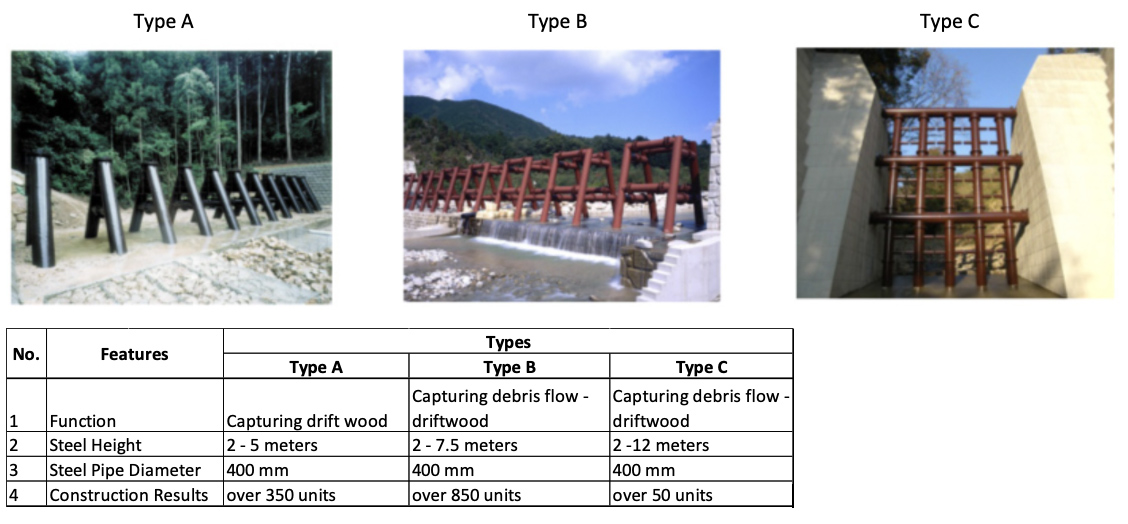 Application Example in the Philippines
Type: Slit type A
Location: Anilao river upper stream, Ormoc, Leyte island
When: 1998~2001
Purpose: Flood disaster prevention
(driftwood, debris flow)

Application Example in Taiwan
Type: Slit type B (Changed to Taiwanese specification)
Location: Law-Dow river, Nantou County, Taiwan, R.O.C.
When: 2013
Purpose: Sediment-related disaster prevention (debris flow, driftwood)